Welcome



Welcome to our website. Here you will find a schedule of events and ordering information for our music. We love playing music and love having a good time. I hope to see you at a gig soon. Thanks for taking the time to stop by and for supporting live music. We still have our first CD "Grand Theft Audio" available. Just go to our merchandise page or CD Baby. www.cdbaby.com/cd/gordoncollierband.  
to book a gig contact Gordon@gordoncollierband.com


09-26-12 The long awaited Gordon Collier Band album Grand Theft Audio has arrived.  Time to pick up your copy.  You can purchase through our website(on our merchandise page) or at www.cdbaby.com/cd/gordoncollierband
It will also be available on iTunes and Amazon shortly.  Thanks everyone for your support.


Store Location where you can also purchase the CD:

Lone Star Music located at 935 Lake Air Dr. Waco, Texas

Bar D Brew House 213 N. High Street San Saba. Texas

The site player now has some songs from the album posted on the media page.  Be sure to listen to them and tell us what you think.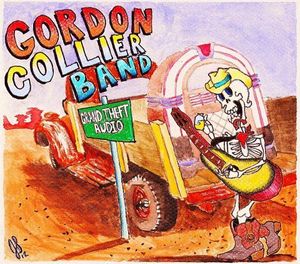 We just wanted to give a big thanks to all our fans. Check back for more updates and other breaking stories.

   You can now follow us on Twitter under the name GordonCollier or on Facebook Gordon Collier Band. You can also check us out on Spotify.
   If you would like information on booking a show  e-mail us at: gordon@gordoncollierband.com.
Also, email us your picture from a gig!
Have a venue or bar you would like to see us play ?  Send us an e-mail and tell us about your favorite venue here in Central Texas.


See ya'll at the Dancehall,

Gordon Collier Band